Getting ready for the restart part 2! 😁🐓😁…
Spurs sent an email calling for photos for the fan digital wall to be screened for the restart opening game vs Man U on Friday. Our TV room has turned into New WHL and this is our contribution from Malaysia.
The Harry cutout is courtesy of former British High Commissioner to Malaysia, Vicki Treadall tqvm who popped by to the 33rd floor at Tower 2 KLCC several years ago. She surprised us by bringing this for a preparation meeting ahead of a David Cameron official visit. Imagine carrying it through the KLCC lobby, up the elevators etc 😅. Apparently it was a promo cutout for a Spurs tour event of the Far East the High Comm co-organized. As this is not considered a national treasure and no one else wanted it at K (!), I took it home, in the store room downstairs mostly… Until now!… All the best to all the bola kakis out there for the restart #COYS ⚽🐓🙏🏼. Ps, that's Mama Mas in the Son mask. She loves everything Korean

17 June 2020
Spurs 5 Burnley 0 … Sonny Wonder Goal

An "I was there" moment. Messi, Diego, CR7? Enter our Sonny! Son Heung Min's goal, the third in Spurs' 5-0 demolition of Burnley will live long in the memory of whoever was privileged enough to view it live today.
Its been more than 40 years since my first live game following Spurs (Brighton 0, Spurs 2 in late 1979, Goldstone Ground, Brighton), and have been privileged alhamdullilah to have seen some really special Spurs goals – various Hoddle, various Bale, Ricky Villa Cup Final goal v City 1981, Falco v the Arse in a 1983 5-0 thrashing, Wanyama at Anfield, Klinsmann bicycle kick, Defoe's 5 vs Wigan, Lennon 4-4 at Emirates, VDV at Anfied, various Robbie Keane, and Berbatovs, Sigurdsson v Hull, multiple Kane (especially the brace v Chelsea 5-3, the curler v Arse 2-2), various Dele Alli specials (the hit and run at the Emirates and the latest flip and volley at OT last Wednesday), but this one is right up there!
Brilliant brace from Kane and even our GOAT Sisokko scored again! What an exemplary professional, Sonny, Asian icon, every mother's and commercial manager's dream, and now purveyor of golazos and genuine world class footballer. Power! 💪🏽🐔🙏 #COYS!

8 December 2019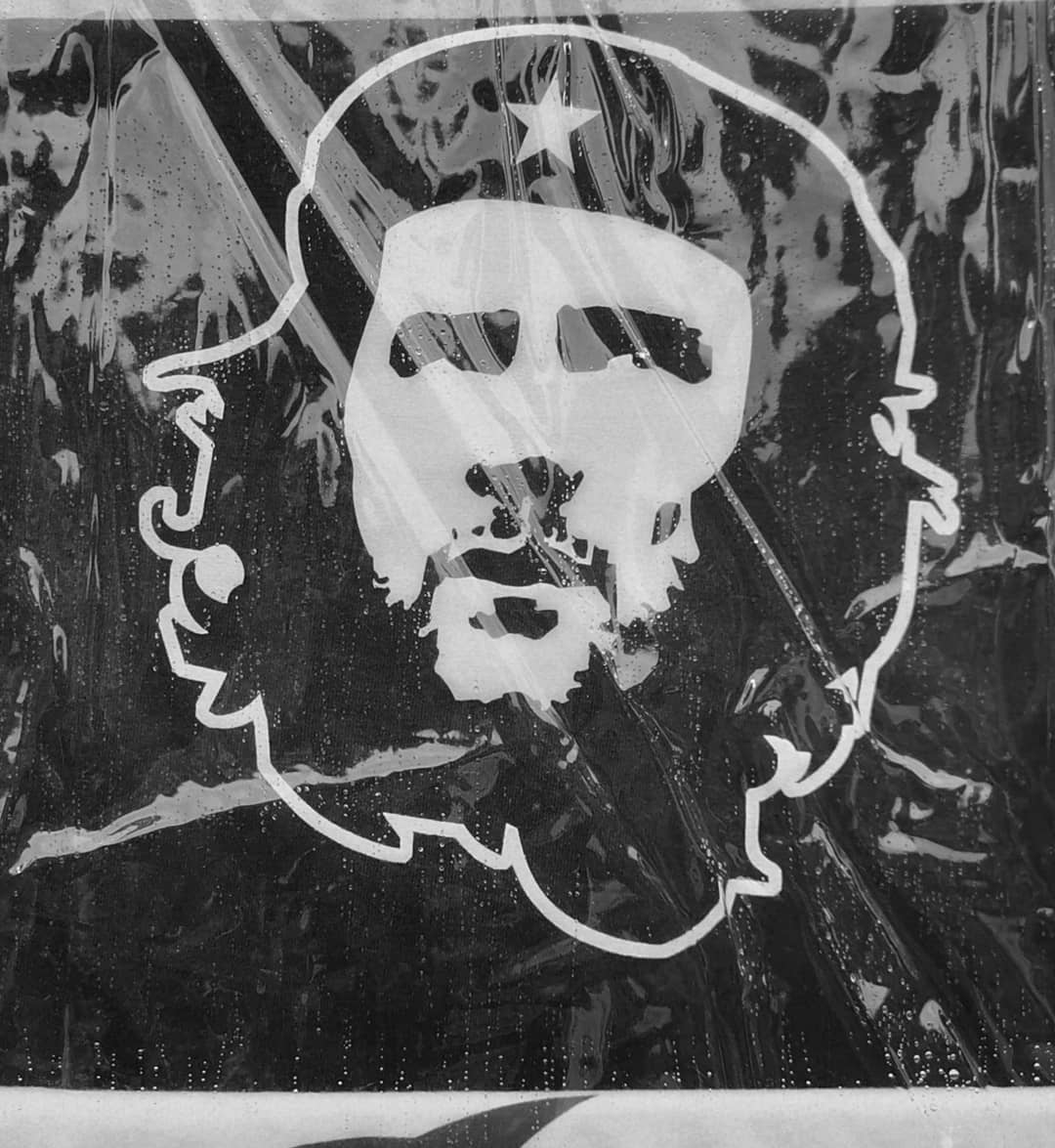 😭😭😭 Thank-you for the memories. El Poch. He's magic you know. So sad. Back to tragi-comedy
😪😓
😫😱😰
💔🙏👺
#COYS 🐔🐔🐓

20 November 2019
Mad & Sad in Madrid ….CL Final

Mixed emotions. Sad and disappointed of course, but also proud. Bridesmaid revisited! ; Team and Poch must ultimately figure out how to cross this last big line! Still, with our resources, it's been the biggest alpha performance by some distance. Was not a great final, Pool won't care, most exciting thing we saw this evening was a crazy, flamenco-loving Uber driver 😂! Congratulations Pool. Its been one hell of a cup run, onto the summer, and we restart for next season. Fiesta atmosphera in Madrid, was great spending time with friends and Zayd, InsyaAllah, the first of many finals for you! Alhamdullilah, great memories still, balik Raya now!. 🙏🏽🐔✊🏼

2 June 2019
The Miracle of Amsterdam … CL Semi Final
(Ajax 2 Spurs 3)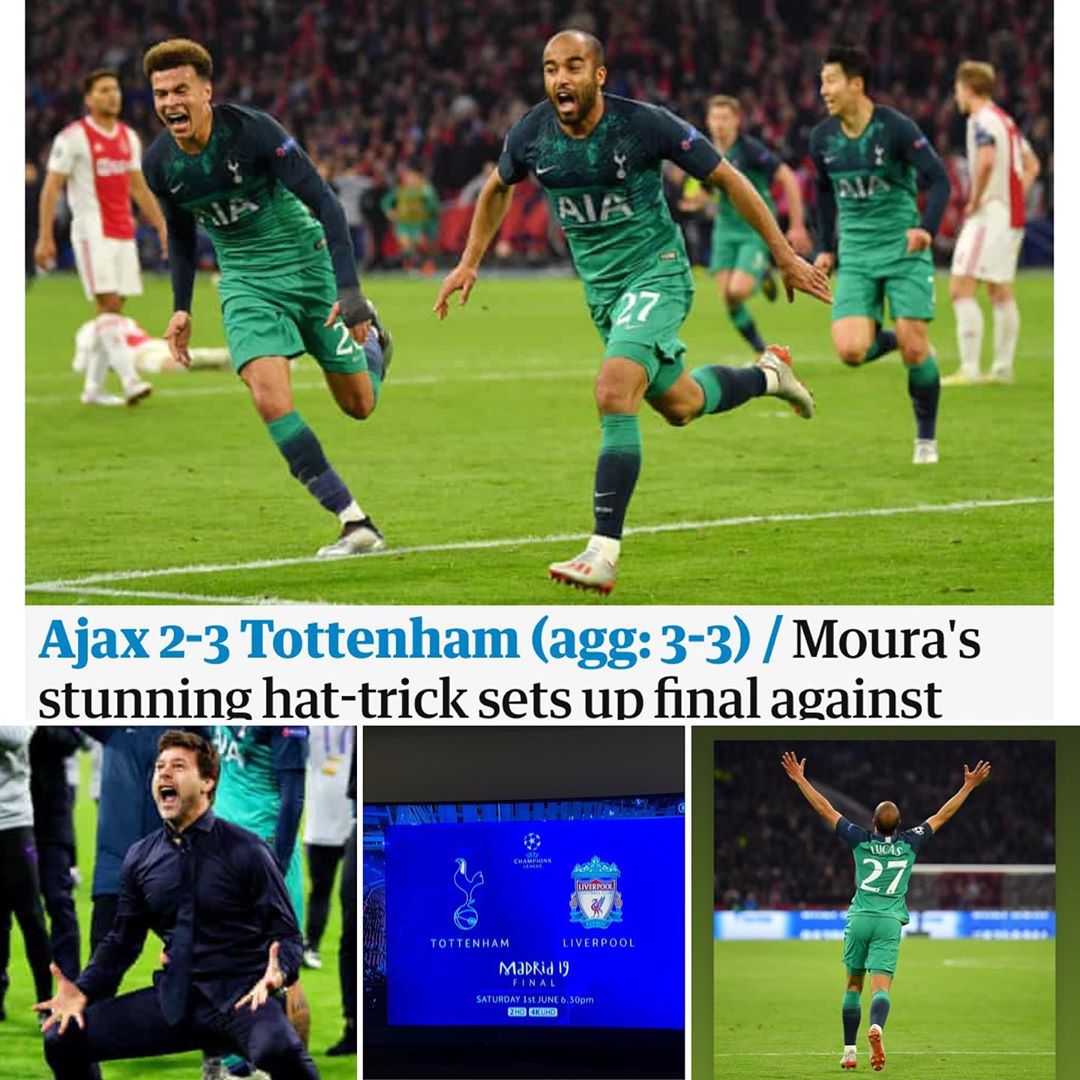 Lads, it's Tottenham! Mental! Superheroes ! #COYS!!! 🙏🏽✊🏼🐔

9 May 2019
Dauntless in Dortmund
(Dortmund 0 Spurs 1)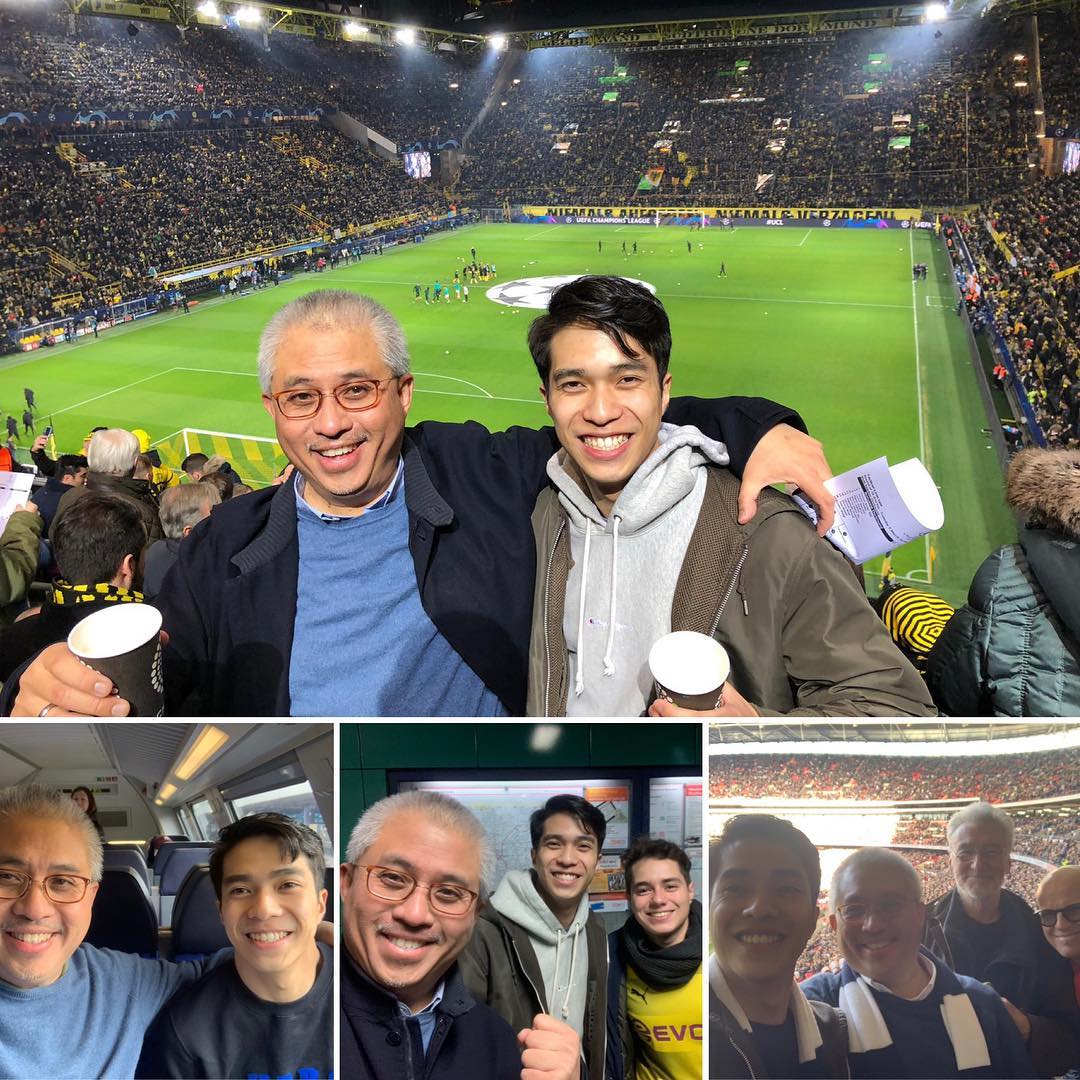 Take care Zayd, safe travels back to DC. Study hard and smart Yang! ❤️ Lovely to have you over for Spring Break … and catching some games together (amnesia on the not so good ones hehe … and, we will always have Dortmund!), what an atmosphere and what a result! 💪🏽👏🏽🐔❤️🙏🏽

10 March 2019
Blissful in Barcelona
(Barcelona 1 Spurs 1)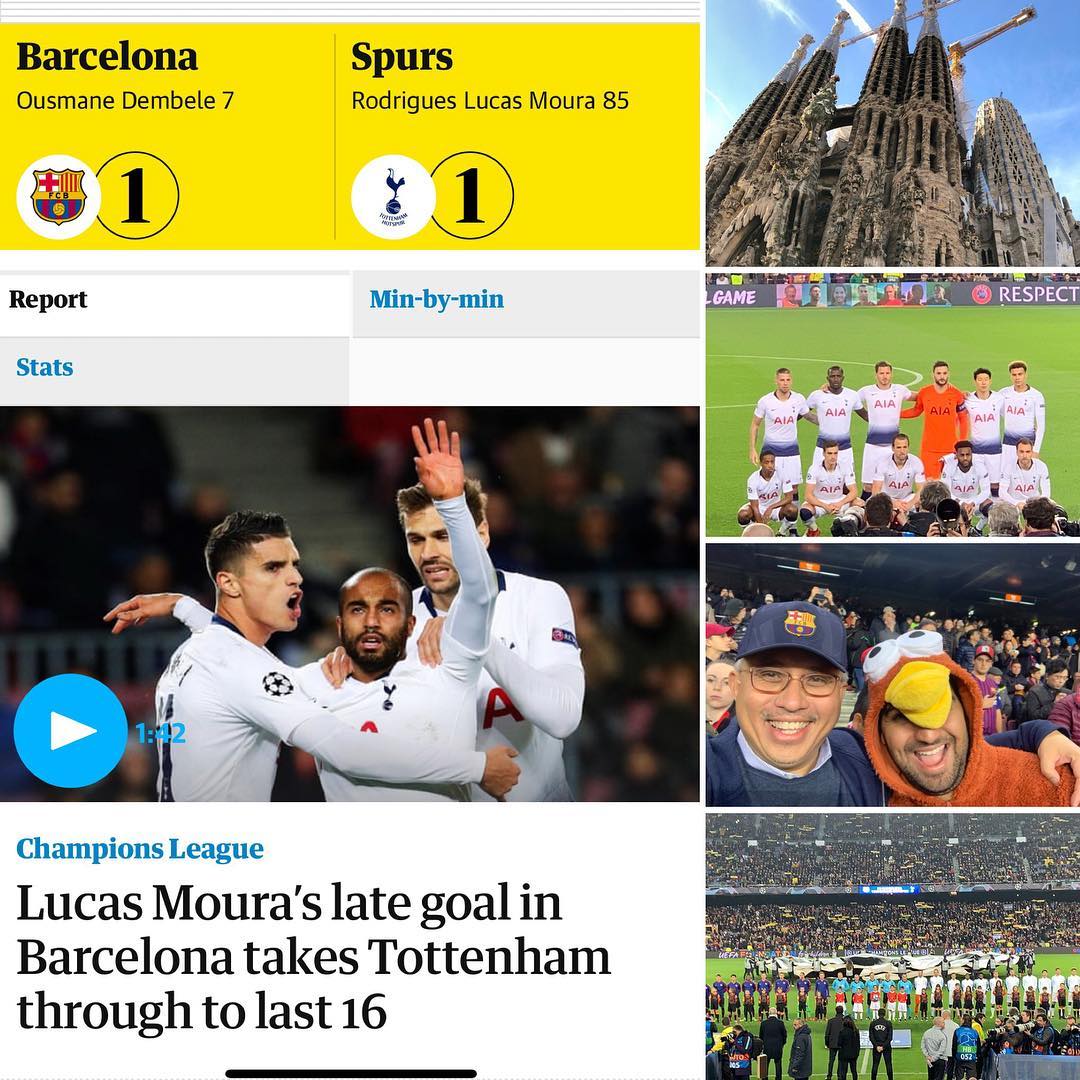 The great escape! No Spexit, very Un-Spursy! Mission made possible on a memorable night at Camp Nou! Heroes all, deserved at least the draw … A Barca with many non first teamers, but there were two $100m + players in starting line up, each costing more than the whole Spurs team! Amazing scenes – even met a real Yiddo from Jerusalem in a chicken suit 😂 (wore a Barca cap to keep out floodlights and also Oscar disguise 😽). TQ too and respect for PSV👍🏽. And, interesting that THFC and La Sagrada Familia started in 1882, are WIPs and now kind of getting there! 😁. A sign coming into Heathrow on MH; new WHL stadium greeted us, and it may just welcome CL knockout football too! Amazing! 💪🏽🐔🙏🏽 #COYS

12 December 2018
Home Sweet Home
(New stadium opening)
Finally. Home Sweet Home 🙏🏽🎊🐔#COYS #nomadsnomore #thenewthreepointlane🙏🏽

4 April 2019
Build and We Will Come
(Sneak preview of new stadium)
We're coming home! TQ to Conor and the THFC team for showing us around the new Lane and the new super duper Spurs Shop. It's a real beauty. InsyaAllah, not long now! 🐔💪🏽🙏🏽

4 January 2019
Rainbow at the End of the Lane
(Last game at Old WHL, Spurs 2 Man Utd 1)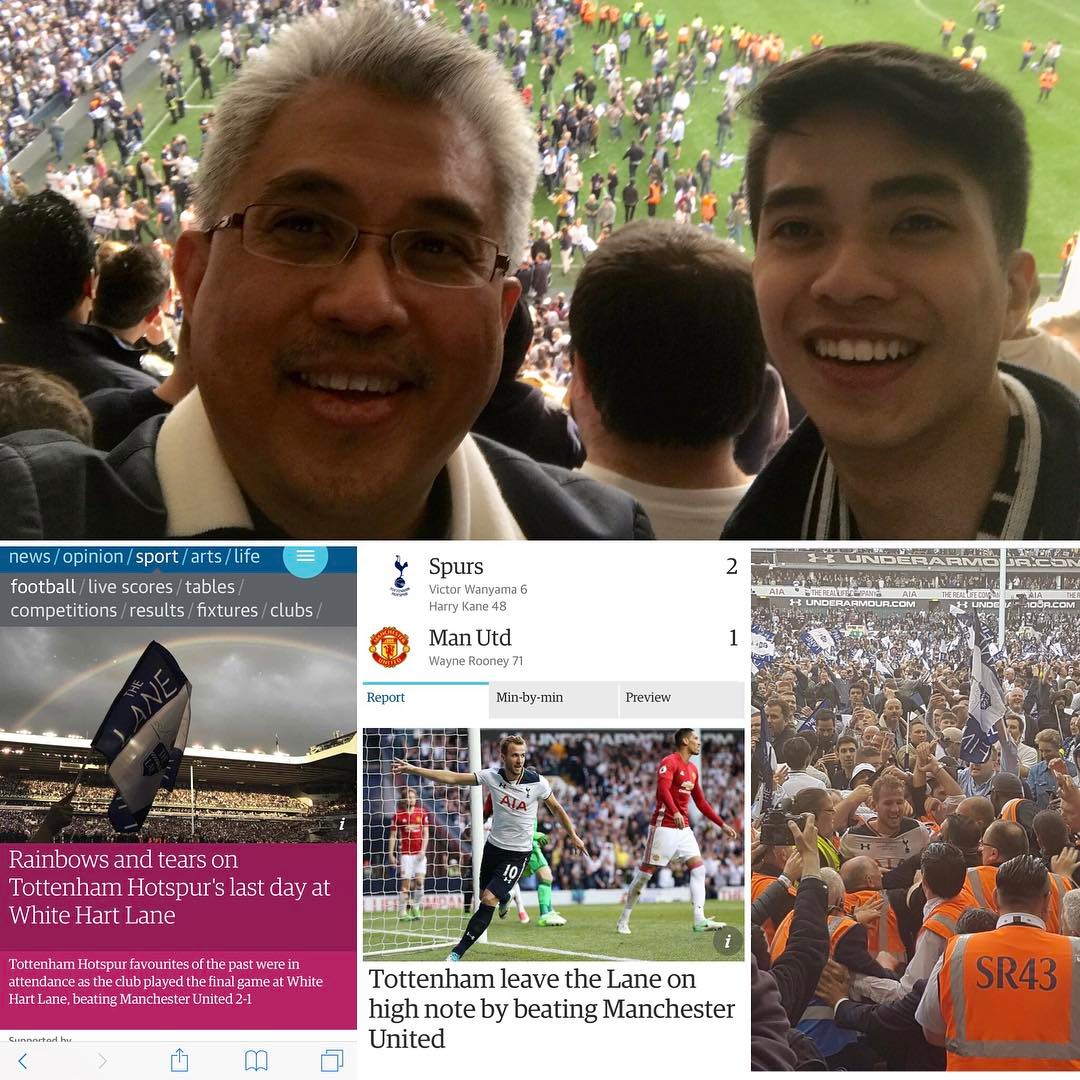 Perfect send-off for the 118 year old White Hart Lane … a win and unbeaten season at the Lane, a classy finale , thrills and tears … and even a rainbow 🌈 turned up! 🐔🎉🙏🏽

16 May 2017
North London is Lilywhite! : Rocking on the Shelfside
(Last NLD at the Old Lane, Spurs 2 Arsenal 0)
The last North London derby at the Lane … the moment when "We got Alli 🎼…" became "Harry Kane, he's one of our own 🎼" …74 seconds between the first goal and the penalty. 2-0 flattered Woolwich, complete performance at the old Lane. Sad but rocking ! 🙌🏽🎊🐔 #COYS

1 May 2017