Fiat Sapientia Virtus.
MCKK Foundation Board of Trustees meeting today, my first. Back in 2006, after the 100 year centennial celebration in 2005, as the youngest member of the MCKK Board of Governors chaired by the then DYMM Raja Muda of Perak, Tuanku Raja Nazrin, I was tasked to head a working team to present proposals for "The Reshaping of MCKK for the next 100 years"
The recommendations of the initiative that came to be known as Project Sayong was approved in Nov 2006 by the BOG. One key plank was the formation of MCKK Foundation, tasked with fund raising and driving the implementation of Project Sayong. Chaired by Tun Hanif Omar, with Dato Karl, TS Dzul Razak and Ahmad Shahizam as the other trustees, alhamdullilah, MCKKF has done a lot in its 12 years hence, raising some RM35m of funds, building key infrastructure "hardware" projects (IB Complex, Tun Abdul Razak Auditorium and Pavilion Block refurbishment) and driving the development of its flagship "software" projects i.e. the International Bacaleaurate (IB) program and the MCKK Wind Orchestra Annual Royal Command Performance.
The original Sayong group working team consisted of several more junior OBs, including the likes of Ahmad Shahizam, C88 aka Kataque 🐸 (and also CEO of KPJ now, and still a trustee of MCKKF), Dr Farid Sani C98 (at Khazanah and also board member of IHH, a rival of KPJ) and Nik Nazmi C99 aka Budu (now YB for Setiawangsa). Our BOG Chairman has also now become the BOG Royal Advisor, as DYTM the Sultan Perak, and also our current Deputy Yang Di-Pertuan Agong.
Another outcome of the Sayong study was the creation of the Trust School Program under Khazanah/Yayasan Hasanah which has to date implemented > 200 schools under the program throughout the country. Two key stewards of this TSP happens to be MCOBs; YM Raja TS Arshad as Chairman of Yayasan Amir (the oversight Yayasan) and TS Dzul Razak as Chairman of LeapEd, the operations arm.
The history of our young nation is synonymous with MCKK's. At this critical juncture in the nation's history, may MCKK, us Malays and Malaysia continue to rise to the ocassion in the spirit of Manliness through Wisdom. InsyaAllah 🇲🇾🤲🏼⚖️💪🏼🙏🏼

26 October 2020
MCOBA dinner 2018. Old old boys, new old boys and everything and everyone in between. Our Alma Matter of 113 years; Disproportionate producer of Kings, Prime Ministers, freedom fighters, nationalists, internationalists, writers, artists, business leaders, politicians (on all sides)… and assorted bon vivants, prisoners and vagabonds too! The member for Port Dickson was GoH this year, fellow Serpent 7478 Prez TAB in his element, doing a great job for everyone ! Ties that bind. 🙌🏽🏉🎙🛏🙏🏽

2 December 2018
MCKK Serpent 40th Reunion
40th Anniversary Reunion Dinner of the Class of 1978, The Serpents of MCKK. 120 of us entered the hallowed halls of Prep School as 13 year olds in 1974. 45 years and almost the same kgs later – more inches, less hair, older, wider, whiter and a little wiser … growing gracefully together. Bonds that bind, Brothers for life. Alhamdulillah 😄😎🐍💪🏽🙏🏽

29 October 2018
Old Boys Weekend 2018 – Class of 1978, Serpents, 40th Anniversary too. Fiat Sapientia Virtus- Manliness through Wisdom. (Btw, another reunion too ; I had a special relationship with this piece of metal (it's the preferred punishment for detention class! 😂😬😍). Ties that bind! 🏉🐍🛏🗝🙏🏽

2 April 2018
MCOBA Old Boys Weekend 2018 … Serpents 40th reunion … trying to relive old glories haha !, 40 years and 40 kgs later : after being high enough but short, being long enough but low , even hitting the bar (I was actually aiming for it 😜) … finally, at the tenth attempt 😂 when drop kick became dropped goal 🤣! 🏉✊🏼🐍

9 April 2018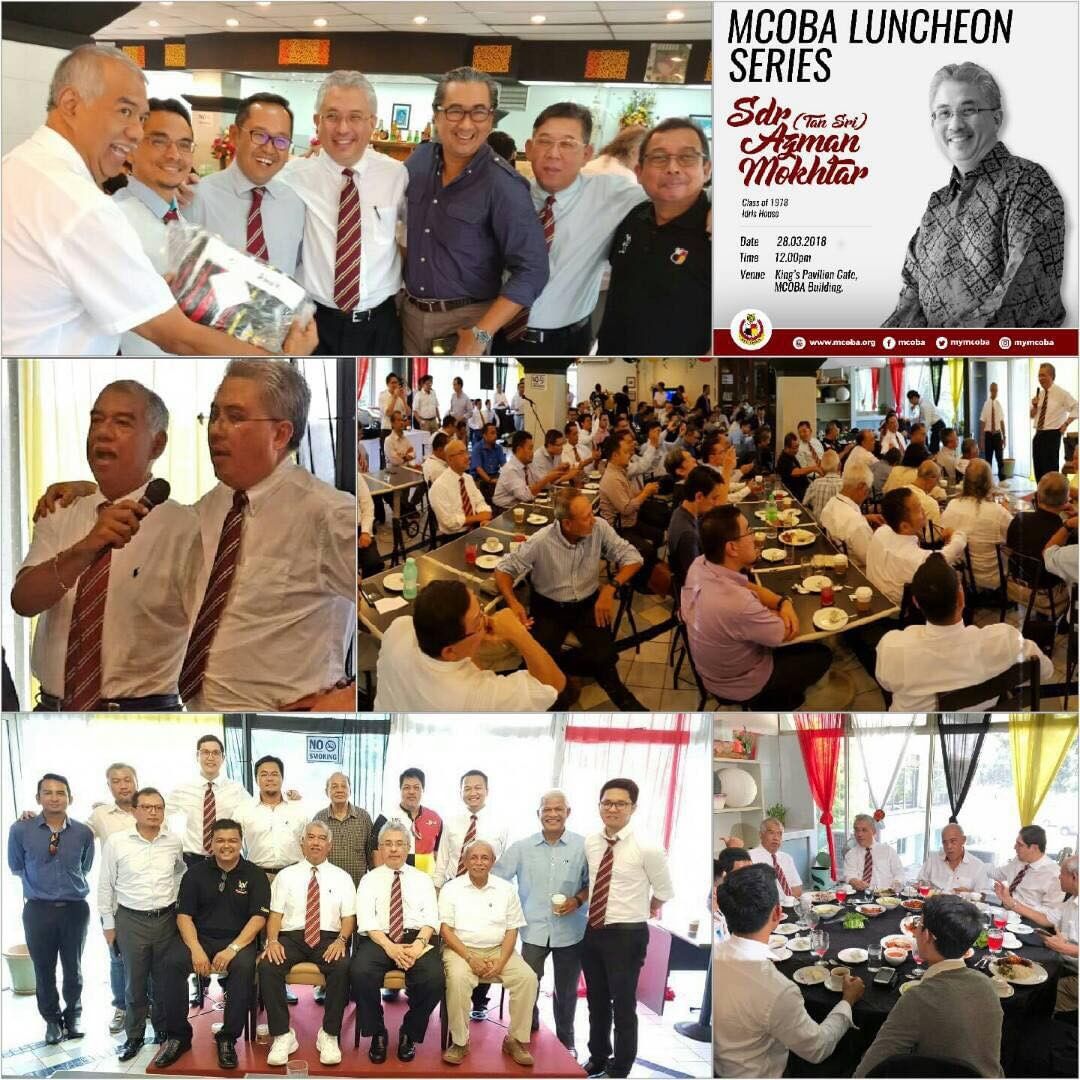 Luncheon talk at MCOBA- always a super boisterous and demanding audience! Alhamdullilah, spending time with brothers I grew up with. Ties that bind! 🏉🕌🚬🛏🙏🏽

29 March 2018
Program Penghayatan Al-Quran MCKK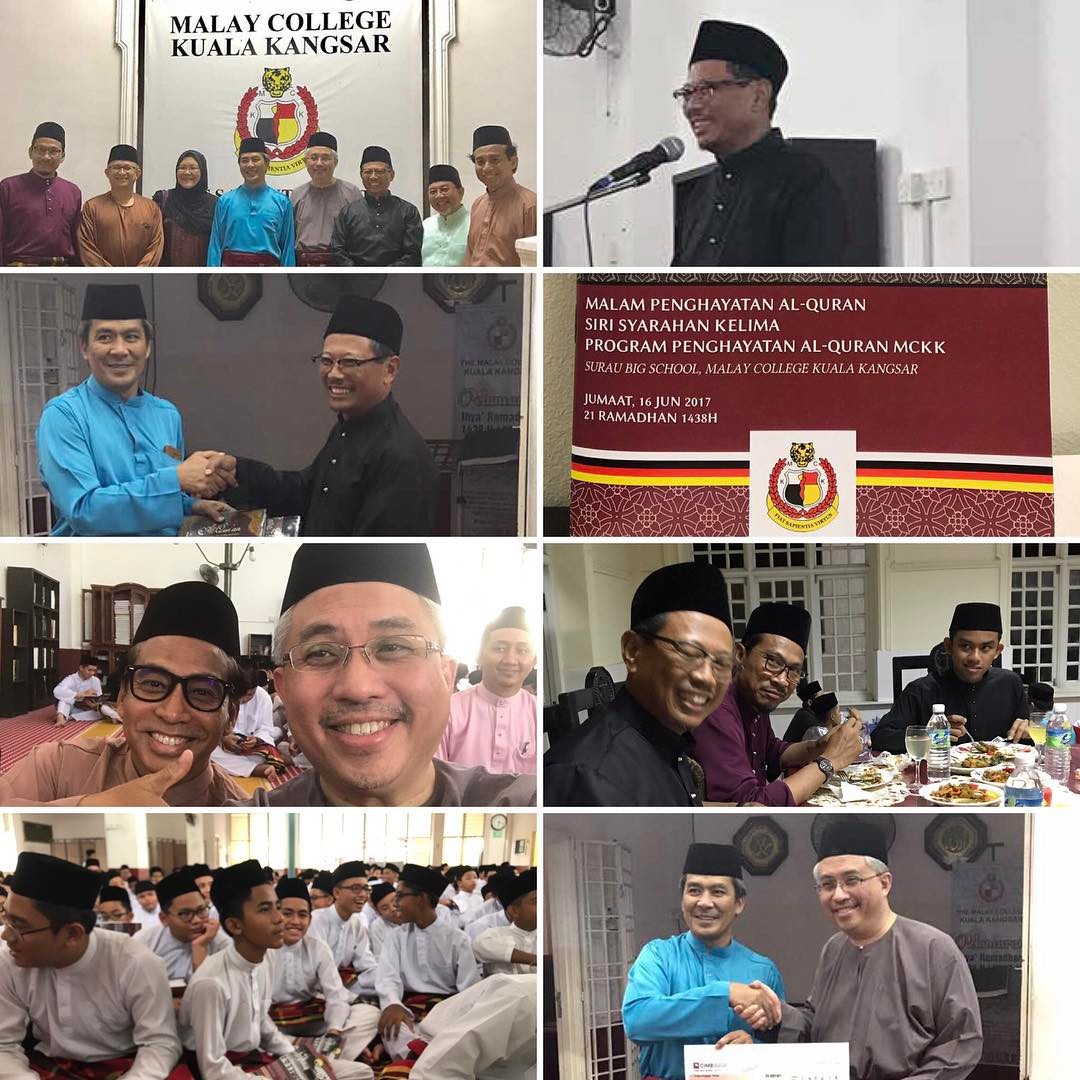 MCKK's Projek Penghayatan Al-Quran. Now in its 4th year, it aims to develop the love of the Quran for the boys from four perspectives – membaca (to read), menghafal (to memorize), memahami (to understand) and menghayati (to live it). Initiated by our batch, Serpents Class of 1978 in 2014, to commemorate the 40th anniversary of our entry into Prep School, the program was launched by DYTM Sultan of Perak with the Minister of Education Idris Jusoh present. Steady progress alhamdullilah, 16th June recently saw the 5th PPAQ lecture delivered by our very own Tuan Hj Adam Said on leadership and the Quran. ☪️🏵🙏🏽

27 June 2017