My Arwah Father – Allahyarham Haji Mokhtar Daud
Al-Fatihah for my late father, Allahyarham Hj. Mokhtar Daud who passed away 26th November 1989, 31 years ago on this day, at the young age of 57.
Many years on, I sometimes still get stopped, in meetings, on the street, including by strangers, saying "I knew your father, Hj Mokhtar, very kind man". Inevitably followed by stories of how Arwah Bapak had gone out of his way to help… A recommendation for a job, a promotion, a scholarship. A kind word, an advice, a letter written. Even lending or giving money that he probably could not afford. Mum as a result had to be extra strict 😂❤️🙏🏼. Another word often describing him is sociable, gregarious. He made a habit of always visiting our many relatives and his friends wherever he went. He would also speak to complete strangers randomly, cheerily, often for an hour or so, but it meant my Mum and the family often had to wait patiently!
Born 1932, in Chin Chin Melaka, the eldest of 8, and was in his teens when he lost his father, leaving his Mum a widow in her late 20s. Just after the War, my very formidable grandma, Long Leha would sell kuih and nasi lemak to raise 8 kids, while Arwah had to live with a relative in Terrenganu to ease the family burden a bit. He apparently topped the state in the entrance exams into MCKK but could not go because he was not eligible for the state scholarship as he was anak Melaka and was too poor to go on his own.
A few years later, he won a coveted place to go to Kirby, England to become a teacher for our soon to be independent nation. Just as well; somewhere between Sg Besi and London via Colombo, Karachi and Cairo on BOAC, he met and fell in love with a beautiful young lady from Johor. My mother. Alhamdullilah.
Arwah eventually found his way to university and retired a superscale civil servant, as DG of Filem Negara. In between he did many things – teacher, writer, cartoonist, broadcaster, and football commentator!. A most gentle father, he most of all taught us the importance of being kind, honest and hardworking. And the value of education, a thirst for knowledge and most of all, to help others. We all still miss him very much. Al Fatihah. 🙏🏼❤️🤲🏼. Pic credit Kak Dezi

26 November 2020
Allahyarham Dato Azlin Alias
Al-Fatihah to my dear friend, Allahyarham Dato' Azlin Alias who passed away 5 years ago this month.
More spring cleaning… and found this rare photo from late 1993! We were hosted for lunch at the Wall St offices of one Lehman Brothers in New York City. We were running Tenaga's Investor Relations Unit and Tenaga had just been listed for a year or so and was already the largest stock on the KLSE with about 25 pct weight on the KLCI then and one of the largest listed companies on the MSCI Emerging Markets days. This was the roaring 90s before the Asian Financial Crisis and Lehman was in its prime too.
About 10 months later, I left Tenaga to join UBS as an investment analyst. Azlin took over as head of IRU and not long after also became an analyst at Nomura. Little did we know that some 15 years after this lunch Lehman had gone bust and it was indeed Nomura that took over much of Lehman's IB business.Both LLN scholars, Arwah was 6 years younger than me and we bonded instantly and set up IRU and the Investment Unit together. He got married with Azlina a month earlier than Mas and I, and our children grew up practically together.
Mas and I were in London on April 4th, 2015, when the shocking news broke. We took the first flight home to be with Datin Azlina, Arwah's widow and their family, incidentally bringing Ashraf, their first born, with us to go home on the sane flight.
Arwah was always the perfect gentleman. Strong, honest, capable and loyal to a fault. Soft spoken, but firm, a smile and a laugh is never far away. Has always had maturity beyond his years (he is 26 in this photo). That he rose to become the Chief of Staff to the highest office in the land – a hot seat even in the best of times – and yet remained universally respected and fondly remembered is a testament to his many enduring qualities. May Allah grant him much blessings and Jannah InsyaAllah. Take care my friend. Al fatihah. 🙏🌈🇲🇾

22 Apri 2020
Allahyarham Dato' Mokhtar Hashim
Innallilah wa innallilahi rajioon. Al Fatihah for Allahyarham Dato' Mokhtar Hashim, former Minister of Youth and Sports, former Deputy President of MCOBA and Uncle Mokhtar to us of the Kg Chin Chin Melaka clan. Arwah passed away peacefully early this morning at the age of 78, after suffering a stroke the previous evening. He leaves behind his devoted wife, my Auntie Unggal , and two surviving children, his sons, Imri and Sany. He was buried at Bukit Kiara this afternoon, reunited with his daughter and my 2nd cousin, Arwah Amy who departed four years earlier.
Uncle Mokhtar was one of those rare Malay gentlemen; a first class product of that Merdeka generation that was thrust into leadership positions early in an upright and shining newly independent nation. He was a graduate of Universiti Malaya, a promising scientist and already well on the way for a sparkling corporate career with Harrisons & Crossfield, when he was hand picked by then Prime Minister and another MCOB, Tun Razak, to enter politics. His meteoric rise culminated in him becoming a minister before he was 40, in 1980.
He is very fondly remembered and already much missed by his many family members and friends. Kind, warm, of high integrity and intellect, charming and most of all totally dedicated to his country and public service are what I hear most often. I can't agree more.
My most poignant memory of Arwah was when he took the trouble to enter me into MCKK at the age of 12 in 1974 in spite of him being very much immersed in public service then. My parents were then overseas, and Arwah was already a member of Parliament for Tampin and a Deputy Minister. He, being an old boy and former prefect registered me into Prep School. In the process, he changed my house to Idris House too tqvm! (being his house). 12 years later, in 1986, I was able to return the favor by registering his son Imri in Prep School, also changing his house to Idris. Alhamdullilah, Imri grew strong and talented like his father and became headboy in 1990 and is currently the CEO of TM
May Allah swt grant Arwah forgiveness, blessings and Jannah InsyaAllah 🙏🏽🤲🏽🇲🇾⚖️❤️

18 November 2020
Dr. Martin Khor. Rest in peace. The passing of a towering Malaysian, defender of the oppressed the world over, a friend and teacher. Lived life simply, simplified very complex things for the rest of us, outstanding author, activist and public intellectual. Third World Network, the South Centre in Geneva, the Consumer Association of Penang were among his great legacies. Many memorable moments: a meeting with him at Pantai Hospital cafe in late 2004 convinced me to form a team to defend the nation's interest in negotiating trade agreements. We went on to negotiate many FTAs, including the ones on US FTA and TPPA. Unforgettable on how he spoke truth to power, cautioning the then PM of how he was unraveling the legacy of Development and key bumiputra agencies such as FELDA of the then PM's late father Tun Abdul Razak, with his dalliance with TPPA. Martin was also a big advocate for Khazanah's work on GLCs and SOEs. Even more than his considerable intellect and scholarship, we marvel at his courage and activism; always having the underdog and the oppressed in mind, he taught us to think and go the extra mile. He was a great teacher, in ways that is often not immediately obvious. Inevitably, you can't argue with his mind, let alone his heart. I will remember him as a humanist most of all, his courage in standing up for what's right and helping the poor and oppressed.
When we heard he was suffering from late stage cancer, I am glad Mas and I were able to visit him and his dear wife Meena last October at their home in Penang, with another towering Malaysian, TS Andrew Sheng. A happy meeting of smiles and, in spite of his illness, he would focus instead on looking forward, on how to continue to do your best. Typical! A post Covid Malaysia and world will miss him dearly, but InsyaAllah his work will continue through his writings, the great example of a life of action, well lived for social justice and through the many that he taught and inspired. RIP Martin. 🙏🇲🇾🌏

1 April 2020
RIP Mr Tan Gim Hoe. In 1972, a newly minted Maths teacher entered MCKK as a fresh faced 23 year old. He stayed on for 33 years 10 months, teaching more than 5,000 young, prodigious Malay boys in that time. Many went on to some of the best universities in the world, winning world Math prizes and then going onto some of the highest offices in the land, and indeed around the world.
He is reputed to have forgone repeated offers for promotion in order to stay at The Malay College, in Kuala Kangsar, his hometown. At the point of retirement, he was the longest serving teacher ever in MCKK's 115 year history (second longest now), he passed away peacefully yesterday, at the age of 70. Mr Tan is best remembered not just as a great Maths teacher but more so for his dedication and love for his students. He would focus on the weakest, laziest and most distracted students – never giving up on them… even if we had often given up on ourselves! I was in that group 😜, not much good at Maths in MCKK (too busy running!… Running away from detention class and ocassionally some may say, with many co-conspirators, "running" the school too! ) not because of, but in spite of Mr Tan. He really tried! Bless him!
Given our "special history" I was therefore very honored to deliver the induction speech for Mr Tan to become an honorary member of MCOBA at our Annual Dinner in 2016. A Malaysian Chinese who was so dedicated to raise generations of bright but often naughty Malay boys. He was deservedly decorated by DYMM Sultan Perak with state honors recently. I ended the speech with several lines including that "no one really cares how much you know until they know how much you care". Mr Tan Gim Hoe truly epitomised that. May you rest in love Sir. 🙏🤲🏼⚖️

22 May 2020
RIP Don Diego. 🙏🏼
Genius. Tragic genius. In a lifetime of following football, he was, possibly along side Cruyff for me, the greatest. Remember the day in 1980 when watched live coverage as a young student in Brighton of England v Argentina at Wembley when this 19 year old kid just tore England apart. Can't remember the same sensation of seeing a true phenomenon arriving on the world stage ever since. The 1986 World Cup in Mexico was one of the most memorable for me, and Maradona single handedly (pun intended!) carried an ordinary Argentine team to become champions. A cultural icon, never forgetting his roots in abject poverty in the slums of Beunos Aires, he was consistent in siding with with the poor and the oppressed in his native Argentina and also all over the world, including in Palestine. Coincidentally he passed away on the same day as his mentor and friend Fidel Castro. Like most burning geniuses who shone so brightly, his shadow was also very dark and his turbulent personal life was matched by the sheer heights of what the Spanish called his "duende".
Did not have a chance to watch him play live ever… But on two ocassions, was priveleged to be in the same stadium at the same time as the legend… First, during the quarter finals of the World Cup at Cape Town, South Africa in 2010, when an imperious Germany thrashed Maradona's Argentina 4-0. While far away, we could see the stocky figure of Don Diego jumping up and down, in his trademark el loco , on the touchline! The second time was in late 2017, at Wembley Stadium, when he was the guest of honor as Spurs thrashed Liverpool 4-1 in a hugely memorable game. Diego was a guest of his former Argentine teammates, Ossie Ardiles and Pochettino. The hand of god also took time to give some goal scoring tips to one Harold Kane!
Diego actually appeared for one half in a Spurs jersey (a classic Hummel one too) in a 1986 testimonial for his old mate and Spurs legend, Ardiles. Great photos here, including one with another, (English) genius, Glenn Hoddle. Ghod met hand of god!
He gave so much joy. A tragic and very human genius of the beautiful game. RIP El Loco. ⚽❤️🐐

26 November 2020
Allahyarham Rehman Rashid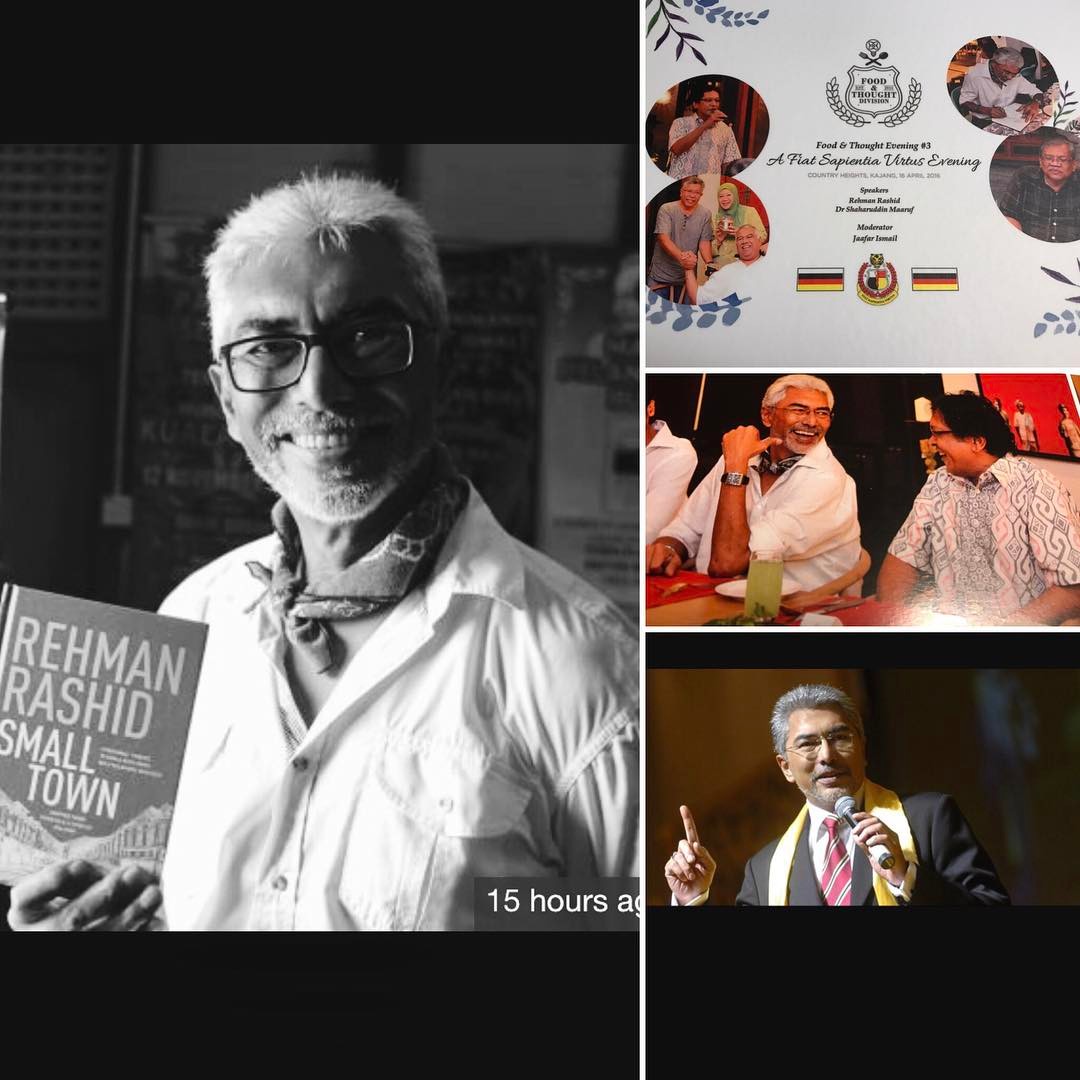 Al Fatihah for Allahyarham Sdr Rehman Rashid who passed away yesterday morning. Left a lasting impression on this 13 year old as a stirring floor speaker at the inaugural PPM debate in Hargreaves Hall, MCKK in 1974. A Malaysian Journey defined a generation as did Scorpion Tales. Was lucky and honored to host a book reading of Peninsula at our home last April, sadly, also our last meeting. Fiat Sapientia Virtus. May Allah grant him mercy and Jannah, InsyaAllah. 🙏🏽🙏🏽🙏🏽

4 June 2017