77 Days, 77 Trains. Around the World in Trains of Thought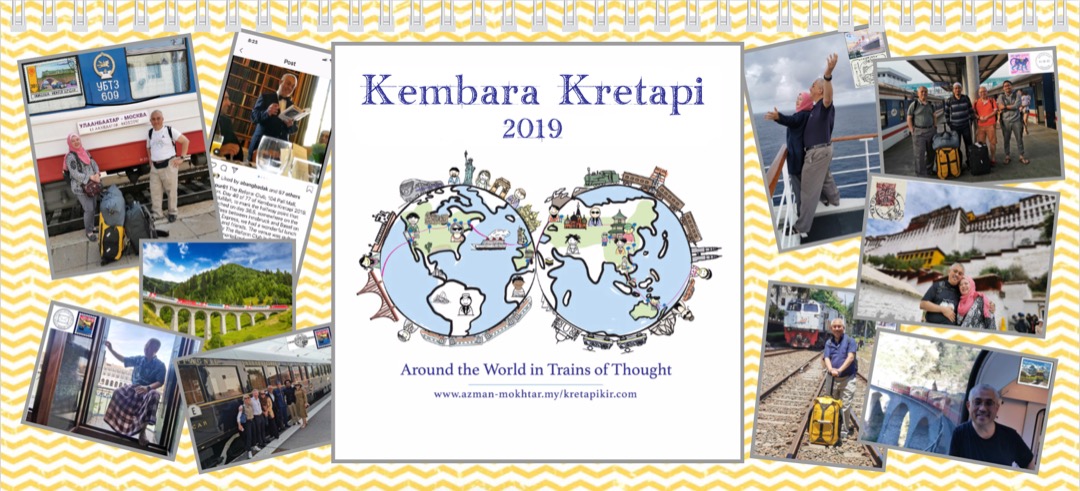 Kembara Kretapi 2019 – Around The World in Trains of Thought
Sometimes, dreams do come true.
Even those that you have been pining for as long as some 40 years as it turns out. Over 77 days and 77 trains in the summer of 2019, Alhamdullilah, I was able to fulfil a teenage ambition of circumnavigating the world on trains. From a rather impressionable age of 13, I had been a regular long-distance train traveler, between my home in Petaling Jaya, a satellite town of Kuala Lumpur, the capital city of Malaysia and the royal town of Kuala Kangsar. Some 240km north, a leafy quaint town, Kuala Kangsar has several distinctions to its credit. It is first of all, the royal seat of the Sultan of Perak, one of the nine hereditary constitutional monarchs of Malaysia. Kuala Kangsar, with its majestic raintrees along the gently winding road, by the great Perak River, up to the palace on Bukit Chandan has the air of a New England college town or perhaps a public school town by the Thames or indeed an Indian hill station touched by the British. The first rubber tree in Malaysia or Malaya at that time stands proudly on one corner, opposite the rather pukka Idris Club, while nearby, Kuala Kangsar plays host to some of the  oldest and most significant education institutions in the country: Clifford School Kuala Kangsar, the Idrisiah madrasah and for me, my home for some 6 years from 1974 to 1979, the Malay College Kuala Kangsar.
With three terms a year and Hari Raya Eid celebrations, it meant I would have taken the 7 or 8 hour journey then by the Keretapi Tanah Melayu train to and from Kuala Lumpur perhaps more than 40 times over the years with a few more extra ones down south to Johor Bharu and, most excitingly, in 1978, up north to Butterworth, Padang Besar and all the way to Bangkok, Thailand with the College rugby team to play the annual match with Vajiravudh College. It was therefore no coincidence, that my internal compass on a round the world train adventure would immediately point north and from my current home in the outskirts of Kuala Lumpur, in the town of Kajang – famous most of all as the real home of the Malaysian dish of satay – I would travel the first day by the new ETS train to Kuala Kangsar (travel time more than halved to a comfortable 2 hours 45 minutes). Day 1  overnight was of course in Kuala Kangsar, an honorary stopover (kunjung hormat) was followed by a morning filled with and the honor of addressing the college assembly at MCKK, and then a specially arranged breakfast at Yut Loy. Thereafter, with Ridzwa, my travel companion on this first leg, we caught another ETS to the border town of Padang Besar. From thereon, as a reprise of the 1978 trip to Bangkok, the first overseas train had to be the 17-hour trek along the long neck of the peninsular that is Northern Malaysia and the length of Thailand.
On day 3, I woke up to the beautiful sight of a sunrise in the Gulf of Thailand and, in short order, a double rainbow over the paddy fields while having breakfast in the buffet car. The route from KL to KK and then to Butterworth and onto Bangkok is a compendium of personal history and youthful memories. Dangling in corridors, sometimes asleep with your feet and body perilously close to falling onto the rail-tracks, smoke and soot from the train co-mingling with other substances, masalodeh food peddlers, adventures big and small, and indeed some misadventures too! This was not a bad start at all, and I took the double rainbows as a good omen of things to come.
Indeed, as it turns out, between 14th July and 28th September 2019, from Kajang in Malaysia, I went full circle, clocking  63,543km (1.6x the circumference of the earth  at the Equator), across 4 continents, 2 oceans, 22 countries and 54 cities. Principally on trains and metro systems, several cars, taxis, Ubers, buses, tuks-tuks, on foot, trishaws, an ocean liner, ferries, water taxis and boats, and, unavoidably, 8 flights. A total of 49 of the 77 days with my dear wife, and closest travel companion, Mas; 12 days with various friends and 16 days solo. A record of the statistics and log of the journey are in the slides attached here, as diligently compiled by Ramana Rajalingam with data supplied principally by our travel agents, Selva and Dave from WDT.
The incredible landscapes, seascapes, cities, art, architecture, food, sights, sounds and smells experienced permanently etched in happy memory. An unforgettable chance to experience God's magnificent earth and meet its beautiful inhabitants through one of the world's great arteries – its train lines. As Paul Theroux (who sparked this great train wanderlust in me almost 40 years ago) said, most special in the great railway bazaar is the people that you meet: the stories, the sharing, some  quirks and idiosyncrasies, but overwhelmingly, it is the smiles, the color and the kindness of friends and strangers. And how in spite or maybe because of our diversity, how thoroughly universal we are in our dreams and aspirations.

To be honest, some 4 months later, the trip is still fresh, and I sometimes find myself while in a crowd of people, sneaking away, virtually, to be alone in deep thought; in faraway lands in a rocking lullaby and embrace of magnificent iron horses on tracks, with a spontaneous smile etched on my face, syok sendiri ☺ haha, but a happy syok sendiri! Indeed, I am still absorbing what this journey means and may still do so for many more months and perhaps years to come: its many rhythms, faces, train schedules, maps, smiles, frowns of conductors, searches at border crossings, mad rush at metro and train stations, the sharing, the books, the exact weight and pressure of bags and backpacks, anxiety over phones running out of critical juice or if there is a clean toilet on the next train or not to be left behind in some gulag like Siberian town, the delectability and then the monotony of serunding and maggi mee, the beauty of landscapes and cities and indeed, most of all, the people that you meet.
In the end, the overriding thought is one of deep gratitude. A journey such as this needs many distinct things to come together; the idea, the time, the motivation, health, some means, safe passage, freedom from commitments … and, critically, to have them all at the same time! Mas and I are therefore truly humbled to say Alhamdullilah and TQVM to the very many who have helped us along the way. We were recipient of great hospitality all along the way, by a great many people.
There are several by virtue of their special and extra effort I should make a special mention;
Margie Yang and her team in Guilin, China who hosted us at their state of the art, eco-friendly textile factory,
to Jargal and his beautiful family who hosted us for three amazing days and nights in Ulan Bataar and the Mongolian national parks,
to Pooma Kimis in London who helped organize a very memorable luncheon at where else but the Reform Club on Pall Mall (of Phileas Fogg and Around the World in 80 Days fame),
to the Smart Axiata team that hosted me in train-less Cambodia,
to Nani, Peter and Ridzwa travel mates in a pre-flooding art biennale fueled Venice,
to Hj Zamani, Muiz and Keat Siang who joined me for the memorable and colorful trek across Vietnam on the Reunification Express,
to Shahril and Theresa, my Sherpas in San Francisco and then travel companion on the severely delayed Coastal Starlight Express to Los Angeles,
to Adam Said who came all the way to New Zealand to join me on another delayed train, the Northern Explorer from Auckland to Wellington.
To those who fed us: sometimes in their homes: to my cousin, Siti Hajar and her husband Nigel, who hosted Adam and me to a sumptuous homecooked Malay meal in their Wellington home, to Nirmala and Suresh who bought me a great Melbourne brekkie, then to Mazlee Junid and his wife and family for the great home cooked food in Perth, and ditto for Safinah and her husband and family in Cambridge Massachusetts,
to Fuad and Reda, IMF economists to a great lunch in Georgetown, former ministers Pak Gita and Pak Chatib and Ibu Yasmin and Ibu Dana for dinner in Jakarta, Pak EK for the Bakso breakfast in Jakarta, Prof Danny Quah for the breakfast at The Raffles in Singapore, and to Rezal Rahman and Andrew Wong for the meals and being great Sherpas in Singapore.
To John and Naoko Pang for being with us for most of the 5 days in New York City as well as Aamir Rehman and Shahzad, who accompanied me on a day trip to Boston by the Acela train, to visit professors at their alma matter, Harvard University and also to MIT's Media Lab.
And upon entering Malaysia on day 76, to Tan Sri Shahrir Samad and his team for the most amazing surprise of a loud and merry kompang welcome reception in Johor Bharu, and then to my most loyal travel companions over the years, 2 out of the 3 Three Tenors (my walking mates over the years), Mohd Izani Ashari and Datuk Hisham Hamdan who joined me for the very last, 77th train on the 77th day, from Gemas to Kajang.
The last word and very special thanks I reserve for the Kembara Kretapi 2019 crew who volunteered help and time, our very own "Oceans 11" SWAT team who helped us to traverse the 4 continents, 2 Oceans and many other towns and cities. We could not have done this without you! Dave and Selva, the ever reliable travel agents, Ziad who had done the train journey from KL to Oxford via the Trans-Siberian, a great resource for us, Ramana and Fuad who were indispensable in helping us to pack, secure ourselves and then to record the journey, Ridzwa, always a creative muse to the team and also accompanying me to Kuala Kangsar and then again in Venice. Then of course Irfan who designed the logo, related paraphernalia and now this website, Keat Siang, a fellow wanderlust junkie and also Khazanah's director for Vietnam who joined me for the 33-hour Reunification Express from Ho Chi Minh City to Hanoi and Ahmad Shahizam, whose presence and conversations I had over the years helped to keep this dream alive.

Super-duper thanks to all of you, jzkk! The spirit of wanderlust lives on. Some say a paradox, I see it more as a beautiful enigma: the world is both small and large and life is both long and short. Live it. See God's good earth and His magnificent creation. While we can. Alhamdullilah
Azman Hj. Mokhtar
Abu Dhabi, 28th January 2020.